Sleep has become a luxury to most. We start to feel lucky when we get a full 8-hours of sleep. With an 'always on' society, it's difficult to stop thinking about your to-do list.
Using CBD for insomnia can help manage your sleeping patterns and assist in increasing your quality of sleep. CBD is easy to take and comes in lots of options of oils, capsules, and even CBD Gummies.
Using CBD products for sleep can get you back in the swing of things and experience benefits you thought were only for the elite few.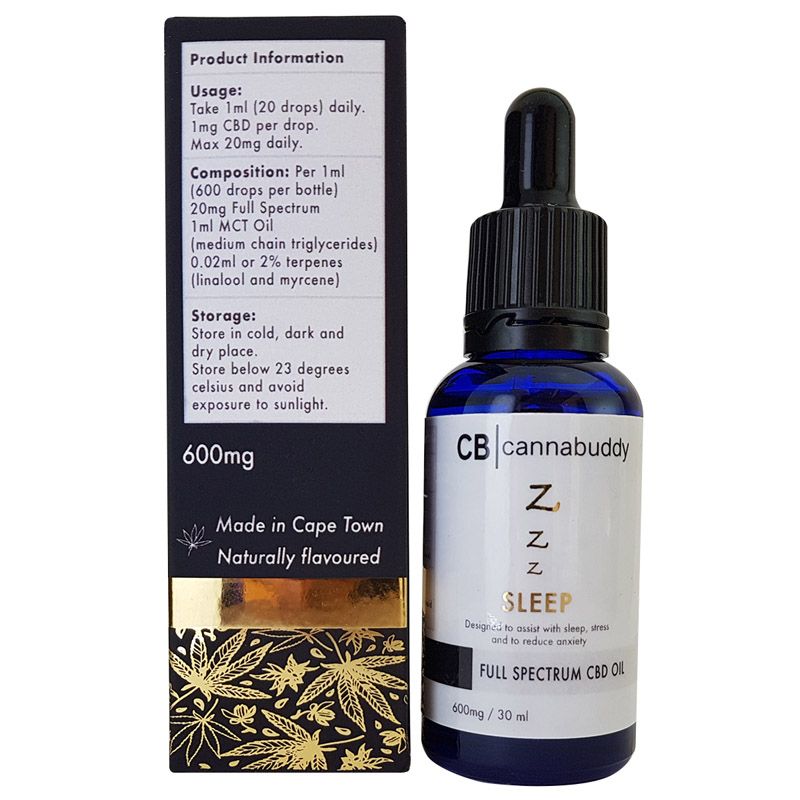 R 1,019.99
R 1,199.99
in stock
CBD Oil for Insomnia, South Africa
Getting a decent night's rest helps improve productivity, mood-swings, mental health, cognitive thinking and even strengthen your immune system. Sleep also keeps your body functioning at an optimal rate and keeps your immune system in tip-top shape.
Using CBD oil to sleep not only helps manage insomnia but ultimately lets you reap all the benefits of a good night's sleep. Research on CBD for insomnia has quite a way to go, but it has been promising and shown results of success so far.
Image by CrystalWeed Cannabis on Unsplash
CBD Oil for Sleeping and Anxiety
There is still ongoing research being done on the efficacy of CBD oil for insomnia. However, scientists presume CBD oil helps improve sleep quality by reducing stress and anxiety levels. Stress and anxiety are already known as factors that disturb our sleeping patterns.
CBD for anxiety helps at the root of the cause. Cannabis oil for sleep has shown positive results in a 2019 study where CBD oils were administered to 72 patients with leading concerns of anxiety and sleep issues. The results showed that 78% of patients had reduced anxiety scores, while 67% reported drastically improved sleep quality.
Another study shows that CBD can be used to help manage pain. These benefits are due to the anti-inflammatory and analgesic properties of cannabis. By reducing the feeling of pain, it becomes easier to rest and get some quality sleep.
When to Take CBD Sleep Products
Using cannabis oils for insomnia is different for everybody. By now, we know that everyone's body reacts differently to substances. Some people can have caffeine right before bed and sleep with no problem, while others sip coffee and are wide awake for hours.
We recommend starting just below the dosage according to your weight and building up to test the effect on your body. Experiment with staggered dosing throughout the day instead of one dose before bed. This method can help reduce anxiety and tension throughout the day and allows your mind to quiet as soon as your head hits the pillow.
7 Best Cannabis Oils for Sleeping in South Africa
The best CBD oils for sleeping aren't hard to find. We've comprised a list of the 7 best CBD products that will help you achieve your sleep goal and reward you with the benefits of the rest that you deserve.
🏆 Cannabuddy 600mg CBD Full-Spectrum Sleep Oil
Cannabuddy's CBD sleep oil used full-spectrum cannabis extract along with CBD to help promote healthy sleep, relaxed and stress-free body and mind.  This is due to the entourage effect of full-spectrum CBD oil.
By keeping the natural cannabinoids and terpenes intact after the extraction process. These terpenes directly impact the CB1 and CB2 receptors which communicate with the central nervous system and immune system of our body.
Terpenes such as Myrcene and Linalool have been used historically in traditional medicines for their sedative, relaxing, calming and anti-epileptic effects, helping promote a relaxed state for both body and mind before bed.
600mg full-specytrm CBD oil
30ml
Check Price
African Pure's Balance CBD oil helps manage anxiety, stress, sleeplessness, pain, and inflammation.
African Pure's, broad-spectrum CBD oil has MCT coconut oil as the carrier oil. This oil has the best absorption rate of all carrier oils, resulting in a steady intake of CBD into the bloodstream. The product contains no psychoactive properties and has a trace amount of less than 0,001% THC.
600mg broad-spectrum CBD
30ml
Check Price
Biotech's CBD oil for sleep is specially curated to include a blend of sedative terpenes. These additives enhance the already powerful CBD to give users more relaxing effects on the body and mind.
Biotech has formulated this oil using Sativa L, one of the non-psychoactive compounds found in hemp. The product is THC-free and won't make you high.
Check Price

Elixinol prides itself on having one of the purest CBD oils on the market. They make use of CO2 extraction and the highest grade, natural, hemp to ensure superior quality.
The best way to use CBD oil is by dropping the oil under the tongue, waiting 40-60 seconds for initial absorption before swallowing. This oil provides aid to sleep and tastes like biting into a cinnamon bun with a cooling mint aftertaste.
300mg full spectrum CBD
30ml
Check Price
This CBD oil differs from the rest as it comes in a spray bottle. The spray bottle makes the oil more comfortable to use and dose because you don't have to measure your dosage with a dropper.
This Oil is 100% THC-free and won't show up on any drug test. Making it perfect for athletes and ensuring a full night's rest.
We recommend 1-3 sprays directly into your mouth. One spray equals 12ml of oil and 4.1mg of CBD.
1000mg Broad-spectrum CBD
30ml
Check Price

This product is one of Herbology's most potent oils. It is best to use the oil to help manage severe anxiety and insomnia. This oil has undergone ozone treatment to extract the CBD isolate. A virgin cold-pressed oil is used as the carrier oil and helps absorption and make dosing easier.
This product contains 0% THC and therefore is non-psychoactive. Not only will this product help you sleep like a baby, but it won't leave you feeling hungover and groggy in the morning like a lot of sleep remedies.
1000mg Broad-spectrum CBD
30ml
Check Price
CBD capsules for sleep are a great alternative to CBD oil. If you're someone who doesn't like the taste of the oil or holding it under the tongue, then the capsules are perfect for you.
These capsules are packed full of helpful, active ingredients, like magnesium, ashwagandha, and hop. Each tablet contains the recommended daily allowance of 20mg CBD.
600mg CBD isolate
30 tablets
Check Price
Final Thoughts on CBD for Sleep
CBD insomnia oil for sleep has shown tremendous results to aid insomnia and anxiety. So whether you prefer easy dosing, CBD oil, or CBD capsules for sleep, we guarantee after these, you'll have the best sleep since coming out of the womb.